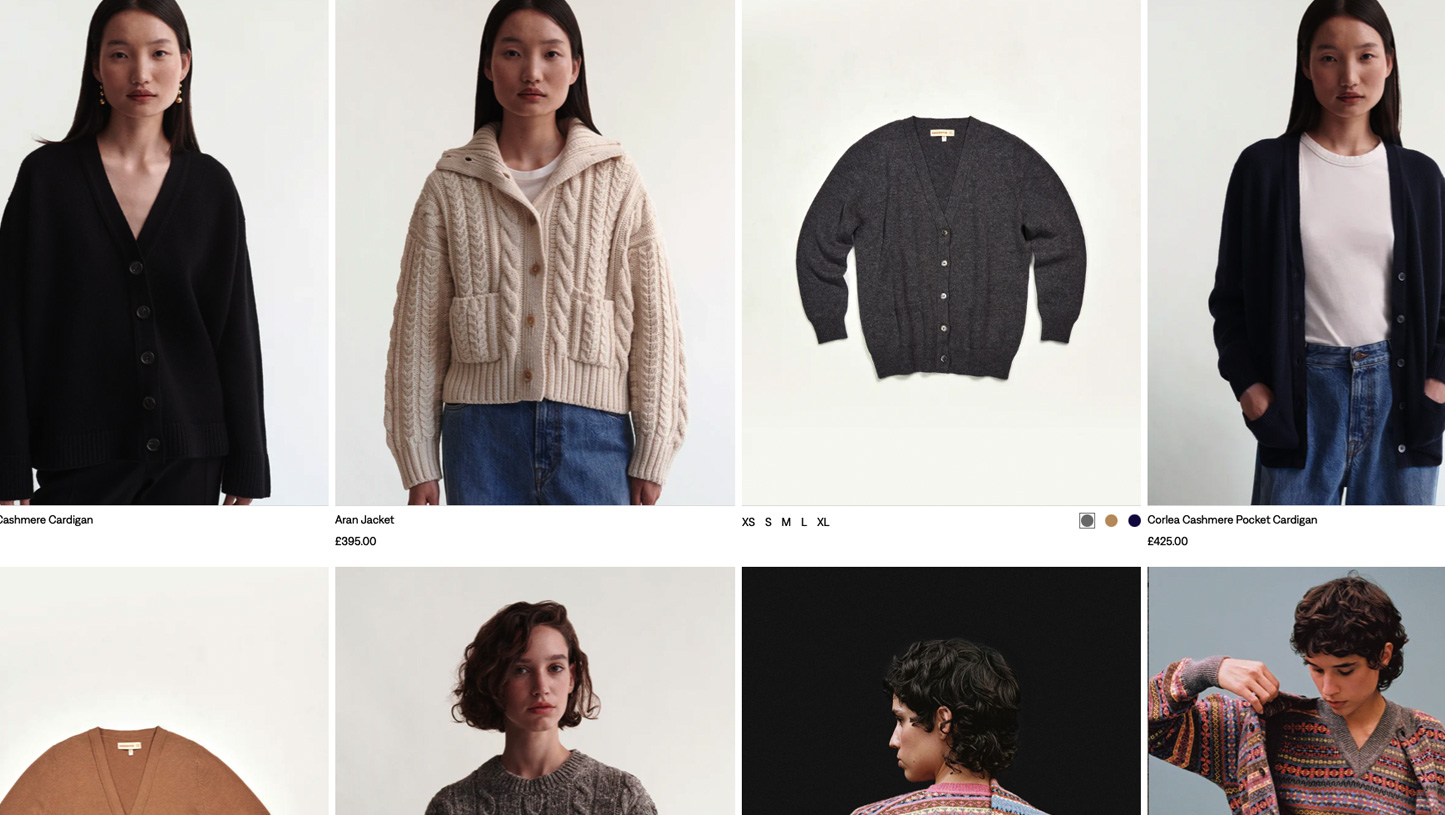 Featured project
We've worked with &Daughter since 2016. Handcrafting their Shopify theme and helping them to increase sales 150%+.
View &Daughter's website
Initially, &Daughter approached Safra to build their redesigned Shopify site in 2016. The theme code had become unwieldly and it was proving difficult to update. &Daughter were spending too much time updating products and had less time to spend on promotion.
Since that initial commission, Safra and &Daughter have worked together on another redesign (designed by the hugely talented OCO) launched in October 2018 to coincide with their new Autumn/Winter 2018 range.
Since that redesign, direct online sales through Shopify have increased massively and &Daughter now have a site which they can update more easily in-house.
In fact, compared to the previous year figures (with the old design):
Add to basket went up over 65%
Conversion rate went up over 200% and
Online revenue went up over 150%
We're very excited to be working with Safra London.

Buffy Reid, Co-founder, &Daughter
A product page that sells
Product information elegantly displayed, a super large Nike.com inspired image gallery, a size guide tastefully revealed; this is a Product Details Page (PDP) that does a fantastic job of selling luxury products.
Product images are 'lazy' loaded to increase download speeds for users - a feature that is pleasing both to customers and Google.
Product sizeways have little stock descriptors next to them like - Sold Out!, Low Stock, or Last One to give the customer feedback before selecting their size as to whether or not the size they want is available and if they need to buy urgently because only one is left.
Colourways - built-in
Shopify and colourways. Not always a match made in heaven. Shopify provides a way to have multiple sizeways and colourways for each product, a feature they call 'variants'. This makes adding and managing products super easy BUT it does not allow merchants to easily add the different colourways to their shop pages.
&Daughter's requirement was to be able to have all their colours on show on the Shop page and to be able to reorder these every so often to freshen up the site.
Their old develoepr created a JSON (text) file with all the product codes in it and whenever they needed to update the site, this text file was updated. Which took hours.
The solution.
Create multiple versions of the same product identical in all aspects except for the product title which would follow the same format e.g.
Enda Geelong Crewneck in Red or
Enda Geelong Crewneck in Blue
This allowed us to programmatically link products on the product details page and product listing pages.
Wishlists, without the large app fees
Wishlists are available to Shopify stores, but they require app subscriptions and those are not cheap. By utilising simple cookies we were able to create a very simple wishlist for customers that worked on the device they were on. The limitation is the wishlist does not work across devices but our research showed this was not a problem for these customers.
Mobile as standard
Only 34.5% of &Daughter's website visitors come in a desktop browser, the rest are on mobiles, tablets, some even come via smart TVs and game consoles.
Your customers are no longer looking at your website on their office computer at lunch time or their laptop in the evening, sure they may do some of that but mostly they are looking from the comfort of their mobile phone.
All work we do strongly considers mobile and we try to get clients to see their website through the eyes of their customers by asking that they look at their website on their phones as much as possible.